HOW TO FIND AND BUY ABANDONED PROPERTIES.
One type of property that gets talked about quite frequently is abandoned properties. These properties are usually fairly easy to spot. They are typically the property that stands out but not in a good way. The obvious signs are boarded up windows, tall grass, and an eerie looking feel.
Typically, properties are considered abandoned when the homeowner has not lived in the house for several years.
In order for there to be an abandonment, there must be ample evidence that the homeowner has relinquished their rights and control of the property.
If you are looking for a bargain, abandoned homes can look like an attractive option. Abandoned houses have been vacated by their owner, often for financial reasons, and can be purchased at low cost.
Though since these homes have been abandoned, they are often not in very good condition. This could be an opportunity if you have the finances to pay for the renovations.
Sometimes abandoned property is in relatively good condition, with the owner looking for a short sale before foreclosure. This could give you a home in decent condition, below market value, that you could sell for a profit.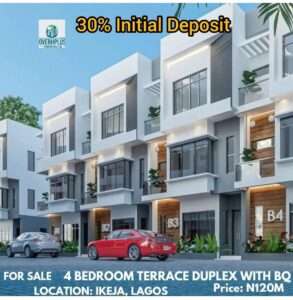 HOW TO BUY AN ABANDONED PROPERTY
Buying a house that has been abandoned or unclaimed is similar to buying any other type of home. While the initial purchase price might be lower, renovating the property will involve expenses and ensure that you have the finances to cover the purchase and renovation costs.
FINDING ABANDONED PROPERTY FOR SALE.
When you check property listings, don't expect to see homes listed as abandoned. Instead, look for phrases like "immediate possession" and "below market value" and similar terms. Anything that suggests there isn't anybody living on the property and that an urgent sale is sought could indicate abandoned houses.
For More Enquiries : Call or Chat 08154029096
info@overhplusproperties.com
www.Overhplusproperties.com
Office: Suite C3 , YOB Shopping Complex, Ologolo, Lekki Lagos